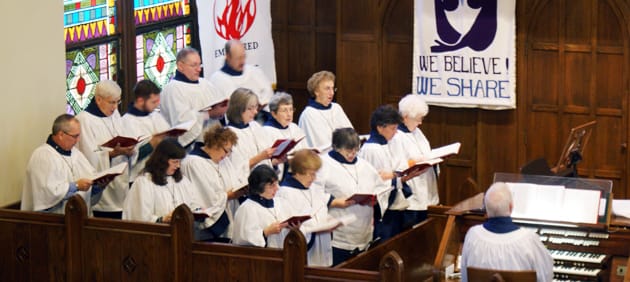 Under the direction of Mr. Marvin Huls, longtime director of choirs at Seton Hill University, our adult choir (teens and above) provides inspiration and leadership in our worship services. Rehearsals are lively and Marvin is skilled at bringing out the best in each singer. Our choir is not composed of professional singers, but rather people to whom God has given the gift of singing. Generally, the adult choir sings most every Sunday during the school year at the 10:45 service. You don't need to feel as though by joining the choir that you have to sing every Sunday. We are thankful for your voice whenever you can sing.
Weekly rehearsal time:
Sunday 10:00 am
Rehearsal Location: Choir Room (the first door you see as you ascend the steps from the sanctuary in the education building)
The Bell Choir is also under the direction of Mr. Marvin Huls. It practices weekly and provides music approximately every other month for our 10:45 a.m. worship service. If you would like to ring, contact Marvin for details.
Weekly rehearsal time:
Thursday 6:15-7:00
Rehearsal Location: Choir Room